Description
✴ Designed to be worn outside-the-waistband (OWB), however, can be worn inside-the-waistband (IWB) with addition of IWB metal spring belt clips or soft belt loop upgrades.
✴ Made with two pieces of .08 Kydex providing a great balance of definition and durability.
✴ Black Calcutta (flat black) is the standard color (other colors available as upgrade).
  Belt clips / fasteners are black

.
✴ Molded perfectly around specified magazine model.
✴ High quality Chicago-style hardware and finish washers.
✴ User adjustable retention and cant on most models.
✴ All edges rounded, hand-sanded and polished smooth for maximum comfort.
✴ Featuring speed belt clips that fit up to 1.75″ belt (no loosening belt to install holster – quick pop on and off yet grips belt securely).
– Speed clips are included even if you add the IWB clips as an option.
✴ Available in a variety of colors.  Back of holster is always Calcutta/flat black (click here for sample color page).
✴ Made by American hands in Michigan.
Below photo shows our METRO holster (similar style to the Dual Magazine Holster) converted for (IWB) inside-the-waistband use with the optional metal spring clips.  Although it wasn't designed as an IWB holster, it functions well on the medium and larger guns.  The smaller framed guns such as the Glock 42, Glock 43, etc. don't have enough holster material on the trigger side of the holster to fit the metal clip as well as the larger guns.  The metal clip option comes with additional rubber washers, posts and screws.
If you order a holster without the IWB metal clips, the holster will not be built to accommodate them (the holster may not be as wide as a holster originally purchased with the IWB metal clip option factored in to it's original build design).
Metal Spring Clips Upgrade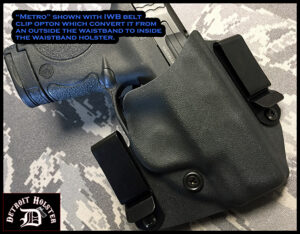 Soft Belt Loops  Upgrade